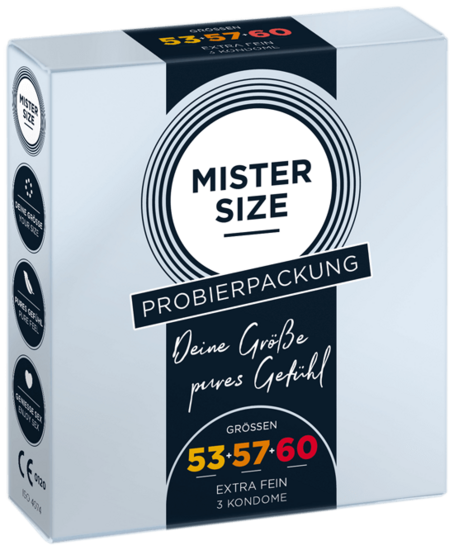 Fabio and 1435 other people love our products
MISTER SIZE medium test package (53 - 57 - 60)
Highlights:
individual condoms in sizes 53, 57 & 60
one condom each for the Happy Medium, The Generous & The Powerful Penises
perfect for finding out the exact size — the practical way
ideal fit for the middle spectrum
intense feelings thanks to a wall thickness of only 0.05 mm
transparent & smooth with a fine lubricating gel film
The MISTER SIZE medium test package (53 - 57 - 60) is available in the following package sizes:
You can buy our MISTER SIZE medium test package (53 - 57 - 60) easily and quickly at the following shops:
Savour Your Personal Condom Size
Just as each person is individual, so is a man's penis. With MISTER SIZE it is self-evident that condoms simply cannot be all the same size. Only with the right fitting condom, a condom that doesn't slip, nip or pinch can you enjoy completely carefree sex with more natural sensations — you will love the difference.
From Test Pack to Exact Size - MISTER SIZE 53, 57 & 60
If you already suspect that you are somewhere in the middle, you can easily and practically try out our "Centre Choice" to help you find out your exact condom size. Containing widths of 53 mm, 57 mm or 60 mm, one of these three sizes will most likely fit perfectly. Actually though, sometimes variety does have its benefits. A slightly larger condom can give you an even more natural feel, while a slightly smaller size can help you to go longer, delay your orgasm and enjoy it more intensely afterwards.
MISTER SIZE – 7 Condom Sizes for Better Sex
Offering a total of seven different condom sizes, MISTER SIZE helps you to enjoy, to relax and have great sex. With a range from 47 mm to 69 mm, you'll quickly find out which one fits best by using our MISTER SIZE Smart, the MISTER SIZE measuring tape or with the practical MISTER SIZER.
Trying another Test Pack is an option, when the "Medium test package" doesn't give you the ideal feeling. Just try our Slim or Wide test package.
Proven Quality
MISTER SIZE gives you a whole new feeling during sex while at the same time offering optimal safety. All our MISTER SIZE condoms comply with DIN standard EN ISO 4074:2002 and are subject to careful testing. Having a condom with optimal safety breeds confidence and certainty which allows you both to totally relax and let go during love-making. You can learn more about our quality standards in our four basic principles.
MISTER SIZE condoms are not only available in 7 different sizes, so that every man can find his perfect partner when it comes to contraception. They are also thinner and therefore more sensitive than conventional condoms.
Properties
Nominal width: 53 mm, 57 mm, 60 mm
Length: 185 mm, 200 mm
Wall thickness (condom thickness): 0.05 mm
Color: transparent
Shape: cylindrical, ideal fit and easy rolling, with reservoir
Lubricant: extra wet
vegan: yes
Proven Quality
Dermatologically tested and 100% electronically checked
Certification: CE 0120 / ISO 4074
You can find more about our quality standards in our four basic principles.
EAN in stores:
4260605480584
The main component of MISTER SIZE condoms is latex. This is obtained from the rubber tree and is therefore a purely natural product, which, in addition to rubber, mainly consists of water, but also in small parts of resins, proteins and minerals.
Only first-class natural rubber latex from carefully selected suppliers is used for the production of MISTER SIZE condoms. The latex mixture also consists of other ingredients that are responsible for good elasticity, reliable tear resistance and the pleasantly neutral odor.
Complete list of ingredients for MISTER SIZE condoms:
Cis-1,4-polyisoprene (natural rubber latex)
Zinc Diethyldithiocarbamate (accelerator)
Phenol, 4-methyl-, reaction products with Dicyclopentadiene and Isobutene (antioxidant)
Zinc Dibutyldithiocarbamate (accelerator)
Zinc Oxide (vulcanization activator)
Sulphur (vulcanizing agent)
Potassium hydroxide (soap)
Fatty alcohol (soap)