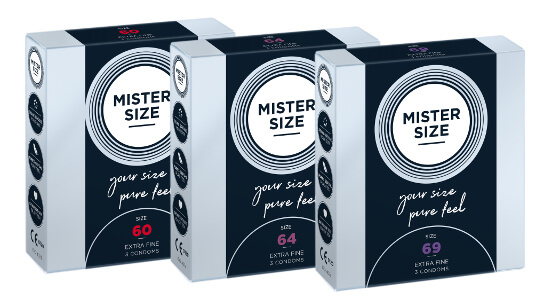 Fabio and 1435 other people love our products
MISTER SIZE Trial Set 60-64-69 (3x3 condoms)
- MISTER SIZE in a try-on set - "Great Feelings" (60-64-69)
Highlights:
individual condoms in sizes 60, 64 & 69
3 x 3 pieces for the powerful, robust & thoughtful penis
perfect for finding out the exact size
ideal fit for the wide range
intense feeling thanks to a wall thickness of only 0.05 - 0.06 mm
transparent, smooth, extra lubricant
recommended for a penis circumference of 13.5 cm - 16.5 cm
The MISTER SIZE Trial Set 60-64-69 is available in the following package sizes:
You can buy our MISTER SIZE Trial Set 60-64-69 quickly and easily at the following shops:
The trial set "Big Feelings" (60-64-69)
The perfect trial set for all those who already suspect themselves to be in the wide range and are now looking for their suitable condom.
Only if the condom size really fits you, you can enjoy completely carefree sex with the pure feeling. Of course, completely without the constant worry that something could pinch and nip. You will love the difference.
Find out your personal condom size
Our "Great Feelings" set helps you find out your exact condom size. Because if you already suspect that you are somewhere in the wide range, you can conveniently try out with this. Whether you have a width of 60 mm, 64 mm or 69 mm - one of these three sizes will probably fit perfectly. Also, sometimes it can be quite good to vary: A slightly larger condom usually provides an even more natural feeling. And with a slightly tighter size, you can delay your orgasm - to enjoy it even more intensely afterwards.
MISTER SIZE - 7 condom sizes for better sex
With a total of seven different condom sizes, MISTER SIZE helps you enjoy relaxed and good sex. The width ranges from 47 mm to 69 mm. You can find out which one fits best with one of our trial sets, for example.
Of course, you can also quickly and easily use one of our measuring tools: the MISTER SIZE measuring tape or the practical Condom Sizer.
Proven quality
MISTER SIZE gives you a whole new feeling during sex and at the same time offers optimal safety. Because only in this way can you let yourself go completely during lovemaking. That's why all MISTER SIZE condoms comply with the DIN standard EN ISO 4074:2002 and are subject to careful testing. You can find out more about our quality standards in our four basic principles.
MISTER SIZE condoms are not only available in 7 different sizes, so that every man can find his perfect partner when it comes to contraception. They are also thinner and therefore more sensitive than conventional condoms.
Properties
Nominal width: 60 - 69 mm
Length: 200 - 220 mm
Wall thickness (condom thickness): 0.05 - 0.06 mm
Color: transparent
Shape: cylindrical, ideal fit and easy rolling, with reservoir
Lubricant: extra wet
vegan: yes
Proven Quality
Dermatologically tested and 100% electronically checked
Certification: CE 0120 / ISO 4074
You can find more about our quality standards in our four basic principles.
The main component of MISTER SIZE condoms is latex. This is obtained from the rubber tree and is therefore a purely natural product, which, in addition to rubber, mainly consists of water, but also in small parts of resins, proteins and minerals.
Only first-class natural rubber latex from carefully selected suppliers is used for the production of MISTER SIZE condoms. The latex mixture also consists of other ingredients that are responsible for good elasticity, reliable tear resistance and the pleasantly neutral odor.
Complete list of ingredients for MISTER SIZE condoms:
Cis-1,4-polyisoprene (natural rubber latex)
Zinc Diethyldithiocarbamate (accelerator)
Phenol, 4-methyl-, reaction products with Dicyclopentadiene and Isobutene (antioxidant)
Zinc Dibutyldithiocarbamate (accelerator)
Zinc Oxide (vulcanization activator)
Sulphur (vulcanizing agent)
Potassium hydroxide (soap)
Fatty alcohol (soap)